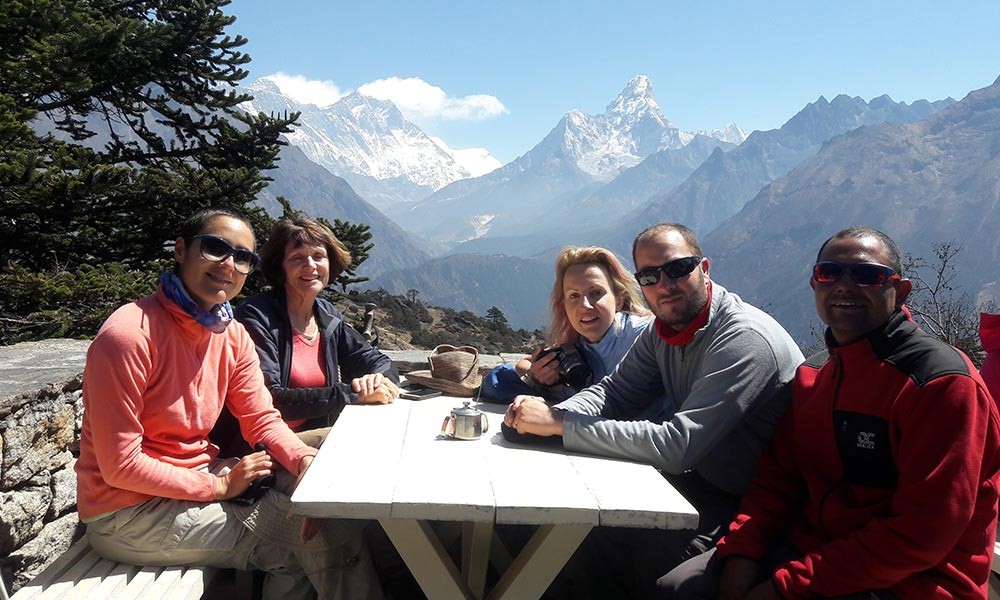 The Everest View Trek is a scenic, short-duration trek with magnificent views of Mt. Everest (8848.86m). While other Himalayan region treks include lengthy and strenuous trails, this trek is relatively easy in comparison. This trek is ideal for those who want to experience the beauty of the Himalayas on a limited schedule.
The trip starts with a scenic and adventurous flight from Kathmandu to Lukla. The trail follows the Dudh Kosi River from Lukla through lush rhododendron forests, local settlements, and monasteries to Phakding. After an overnight stay, you will trek to Namche Bazaar, a vibrant and commercial town of the Khumbu region.
Namche Bazaar offers stunning Himalayan views and is a great place to acclimatize in the region. You will hike to Khumjung, which offers breathtaking views of Mt. Everest, Ama Dablam, Lhotse, and other Himalayan ranges. The Khumjung monastery on top allows you to witness the Sherpa culture and their way of life.
On the journey, we will also visit the famous Everest view hotel, where we will have breakfast observing the pristine Himalayas. The trek then returns to Namche and finally to Lukla through the same route before flying back to Kathmandu. However, you will have a different perspective of the mountains and the surroundings this time around.
The 5 day Everest View Hike is relatively easy and is ideal during the Spring and Autumn. The weather is clear, and the views are spectacular during this time of the year. However, if you are feeling adventurous, you can also take this trek in the winter with adequate preparation.
The Everest View Trek is an excellent trekking package to explore the Himalayan terrain in a short time. Trekkers will observe the majesty of Mt. Everest and experience the Sherpa culture. The spectacular Himalayas, lush rhododendron forests, and charming villages will enchant you.
Overall, the Everest View Trek is an incredible adventure and cultural experience that you will cherish forever. Contact us for bookings and more information regarding this trek. Happy Adventure!