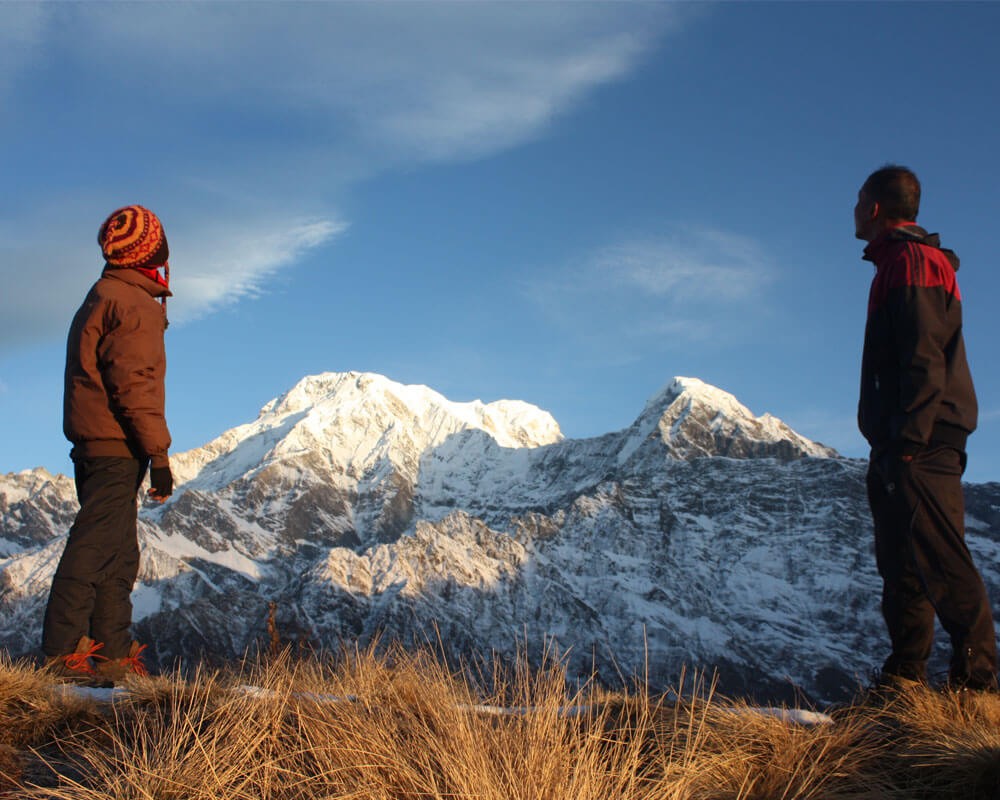 Mardi Himal Trek is an off the beaten trek in the Annapurna region of Nepal. The trek was officially opened in 2012 and got a wide recognition among the trekkers who love the peaceful trail and abundant natural views. Mardi Himal base camp is located at around 4350 meters.
Mardi Himal Trek is quite interesting compared to other treks of Annapurna Region since you will walk through the less trodden trails enjoying the glorious scenery.
Driving to Phedi, the trek begins with a steep ascend and reach to Pothana. It is a tiny Gurung village and the trek moves higher via Forest camp and high camp (3980m). This is a relatively secluded area and the trek goes on through the rhododendron forest. The weather is chilling, but the warm dining hall and soup re-energize you. Mt. Fishtail and Annapurna can be explored from the closest point along with the Mardi Himal itself.
If you love watching bio-diversity, then bless yourself since you can witness various floras and faunas including Danphe, Himalayan Thar and musk deer during the trek in the beautiful lush forest. Trek to Mardi Himal base camp from high camp is tough, but the surrounding panoramas are awesome enough to inspire you. We take a hike from the high camp, explore the beauties from the base camp and back to high camp. The surprising panoramas make you forget the tiredness of the trek.
On the fourth day of the trek, you can reach to the Mardi Himal base camp. It's fast, wonderful and exciting. Retracing all the way to Saidighatta below Sidhing village, drive to Pokhara and end the mesmerizing trip. Although this trek can be done throughout the year, Autumn and Spring are the best seasons. During these seasons, the weather is clear, wildflowers are in full bloom and the mountain views are fabulous.
Marvel Adventureexcitingly welcomes you to enjoy off the beaten trek to Mardi Himal Base Camp. We are committed to make your trek truly outstanding and memorable with all the necessary arrangements. Please, feel free to contact us if you have any queries regarding this trek.
You may also like to read: Annapurna Circuit Trek