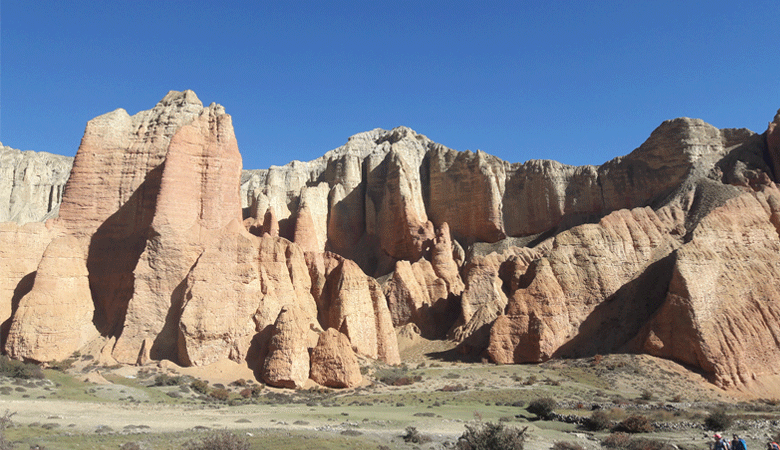 Upper Mustang is often called an isolated region of Nepal - located in the Himalayan region in the north-western part of the country. This region is widely praised for its unique culture, striking mountain views, and diverse wildlife, which has been the key to successful tourism prospects throughout the decade. Upper Mustang trek is a rewarding experience, and for travelers looking for a true Himalayan adventure and who are daring, Upper Mustang is the ultimate destination.
Upper Mustang is part of the trans-Himalayan region, which shares its border with Tibet. As it shares a border with Tibet, the culture and religion are somehow immersed in the autonomous region, giving its unique character. It is home to the famous Buddhist pilgrimage site of Muktinath lies, so it has great significance from a religious point of view.
The Upper Mustang trek is a great way to explore Nepal's remote and magical part of the Himalayas. You can also experience the traditional lifestyle, culture, and traditions of people and the community. Along with them, one of the main attractions of Upper Mustang is its outstanding scenery. The trekking route trails up to the ancient capital, Lo Manthang, where you can view white-washed buildings and surroundings in the picturesque scenery. This place is well known for its beautiful insights, from the snow-capped peaks in the north and barren hills to vast plains to clean blue rivers.
What Can You Expect In Upper Mustang Trek?
Upper Mustang is very rich in its history and culture. You can find many ancient monasteries and traditional villages in this region. The people around here are mostly of Tibetan traditions; for example, you can visit the Thakali community, which has its distinct culture, language, and practices. Their cuisine, Thakali Khana Set is one of the most renowned cuisines in the world.
Since most of the community is based on Tibetan culture, Buddhism is the main religion here. Monasteries, chortens, prayer flags, prayer wheels, and mani walls are some of the religious perks you can find. With all this richness in Upper Mustang, the region has become one of the popular destinations for trekkers worldwide.
You may also like: