Nepal's population is extremely diverse. It is made up of more than 70 different races and tribes. The country's cultural diversity varies according to geography. Tibetan culture has had a strong influence on the northern parts of Nepal. The south, on the other hand, is heavily influenced by Indian culture. Along with the settlement of Newas, the central hills have Indo-Aryan culture.
The Kanchenjunga Region is primarily for travelers interested in unspoiled trekking routes combined with rich nature and culture. Aside from the high Himalayas, you can see a wide range of plants, birds, mammals, ethnic groups, religions, and cultures. The people and culture of Kanchunjenga, vegetation, and occupation vary according to geography. It is the same as the rest of the country.
In this region, you can experience both sub-tropical and alpine zones. You will have the opportunity to face diversities in every sector, such as subtropical land, low land to high land. You will observe different castes and cultures. You can see multiple practices of religion, with Buddhist people and culture being the primary. During your trip to the region, you will also see the livestock of marmots, blue sheep, yaks, and many others.
Along with livestock and rearing animals, agriculture is becoming more popular among Kanchenjunga residents. You will see terraces of farms wet with the plantations of potatoes, wheat, barley, and buckwheat. These are the basic agricultural practices of the locals. However, it is not a sole source of income.
People are also, directly and indirectly, involved in tourism. They have tea houses and serve meals to trekkers incoming their routes. Camping trekking is much more popular in the Kanchenjunga Region due to a lack of hotels, restaurants, and other facilities. But the locals run Tea houses making such treks more convenient.
They also partake in business and trade. People here use small trades, shops, and hotel businesses as a source of income in this region.
Like other trekking regions in Nepal, Kanchenjunga is culturally rich. It houses various ethnic groups, particularly the Lepchas, Sherpa, Tamang, Rai, and Limbu. They all live with their own culture, traditions, and occupations. Most of the culture and tradition of the various ethnicity is influenced by Tibetan culture. They have their own languages, which are mostly Sino-Tibetan based. The major religion followed is Buddhism. But you can find many other practices as well.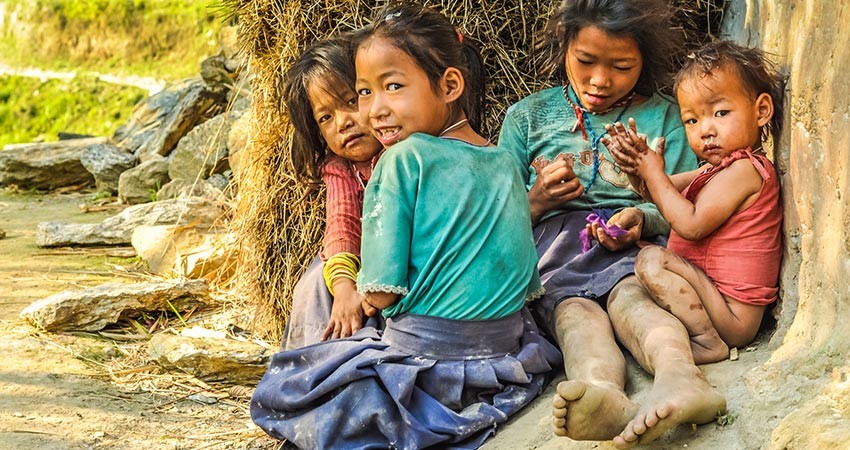 The locals have various folklore they carry. A popular one is of a mountain deity called Dzö-nga or "Kangchenjunga Demon." This Kanchenjunga demon is a type of yeti called "rakshasa". It is often compared to a bipedal creature by locals and also sighted by tourists.
Such folklore and tales are shared among the residents of the areas surrounding Kanchenjunga, both in Sikkim and Nepal. They have told stories about a valley of immortality hidden on its slopes. These stories are well known to the area's original inhabitants, the Lepcha and Limbu people. It is also very popular with other Tibetan Buddhist cultural traditions.
This valley is known as Beyul Demoshong in Tibetan. This means the valley is an isolated and hidden region along the slopes. There was a ritual done to "open" the Beyul was done. This ritual was led by Tulshuk Lingpa, a Tibetan Lama. He led over 300 followers into the high snow slopes of Kanchenjunga in 1962 to 'open the way' to Beyul Demoshong.
The Tibetan influence in the region can be seen through the word "Kanchenjunga"'s etymology. It comes from the following words:
Gangs (pronounced kaŋ) - meaning snow, ice
Chen (pronounced tɕen) - meaning great
mzod - meaning treasure
Inga - meaning five
The word Kanchengunja literally translates to "The five treasures of the high snow."
Nepal has a long cultural history. Geographically it is sandwiched between India and China. People live at different altitudes, which influences how they live their lives and thus their culture. Because of Nepal's vast altitude diversity, our distinct culture has been reflected. Many ethnic groups have distinctive dramatic cultures, languages, and dialects.
The majority of these customs can be traced back to Hindu and Buddhist traditions.
The culture and lifestyle of Kanchenjunga reflect this typically known diversity of Nepal. Located in the northeast part of Nepal, it reflects mostly Tibetan culture. The ethnicity of this area also shares a lot of common culture with people in Sikkim of India.
Check out other Kanchenjunga guide articles:
Our Kanchenjunga Trek Package
Where is Kanchenjunga Mountain Located?