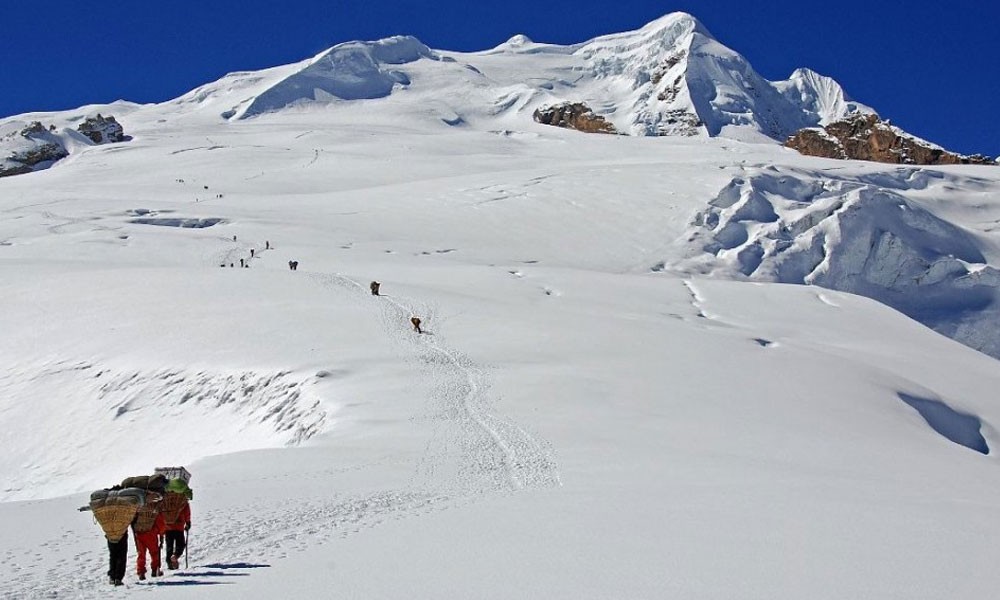 Chulu West Peak standing tall at an elevation of 6419m is considered as the best peak in the whole Annapurna region. It is part of the bigger Damodar Himalayan range of Manang in western Nepal, which runs south from Chako Peak in north-south direction along the Hunlung Khola, Nar Khola and Phu Khola. Climb this marvelous peak and make the dream of climbing peak in one of the world's most beautiful Annapurna region come true.
En route to climb the Chulu West Peak, we trek through the dry but exquisite valley of Manang. The outrageous landscape and unique settlement of this valley will be something to relish during the trek. The trail to Chulu West Peak is quite wonderful and adventurous which keeps you excited for the ultimate aim of peak climbing. However, climbing the peak is a bit tougher and requires a good physical condition along with a high degree of stamina. Assistance from the well-experienced Sherpa guides and knowledge about the use of climbing equipments such as ice axes and crampons will help you reach to the summit of Chulu West Peak.
The surreal feeling of reaching to the top of the peak willl forever remain with you as a life-long memory. The view as seen from the summit is simply breathtaking where you will be blessed with the stunning views of Dhaulagiri, Nilgiri, Annapurna and many other Himalayan peaks. Autumn and Spring are the best seasons for peak climbing. Marvel Adventure organises Chulu West Peak climbing with well-designed itinerary, professional Sherpa guides and all other necessary arrangements. Explore with us and experience sensational climbing and trekking adventure of a lifetime in the beautiful nation of Himalayas.