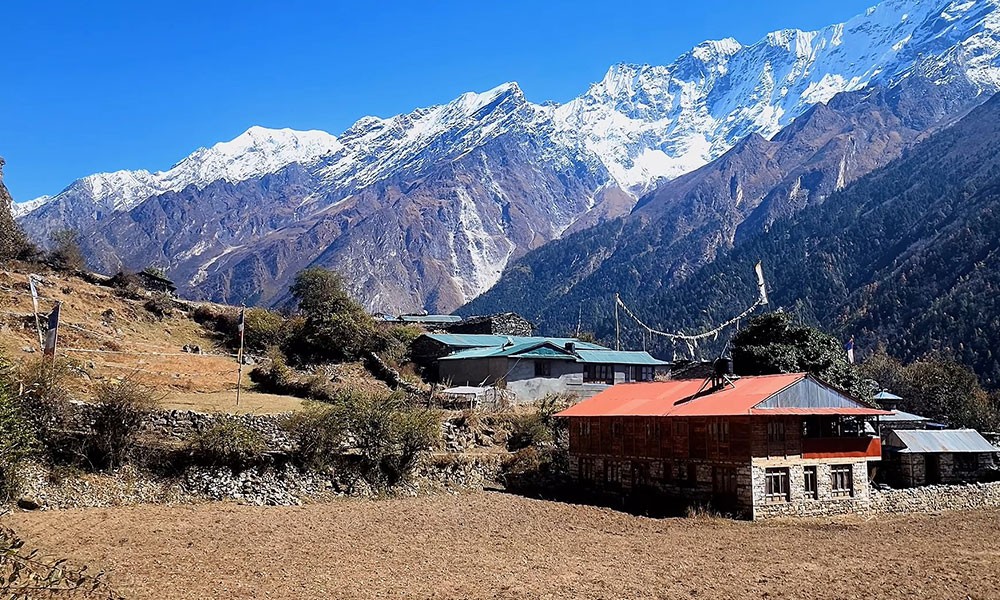 If you are looking forward to a marvellous trek in the less crowded region far from the hustle and bustle of city life, then Manaslu and Tsum Valley Trek could be exactly what you are asking for. This long and adventurous trek takes you to the peaceful and unspoiled Manaslu region to the north-west of Kathmandu valley. Along with the amazing landscapes, stunning mountains and deep gorges, the highly enriched cultural attraction of this region makes this trek extra special.
Manaslu region was opened for trekking in 1991 and used to be the restricted region before the early 90s. The serene beauty and awe-inspiring majesty of this region was then well enough to grow its stature into a famous trekking destination. As this region is maintained and preserved by Manaslu Conservation Area, you can see various endangered animals including snow leopard, pandas, musk deer and Himalayan tahr. During the trek, 10 peaks above 6500m can be seen along with some peaks of more than 7000m and not to mention Mt. Manaslu, the 8th tallest mountain of the world.
Similarly, the Tsum valley lying on the northern part of Manaslu on the Nepal-Tibet border is popular among the trekking enthusiasts after being officially opened for trekking in 2008. Also known as the hidden valley, this region is comparatively less explored meaning the natural magnificence is still preserved along with the rich culture and traditions. This mysterious valley is highly influenced by Buddhism practices and it is clearly reflected in the culture of Tsum people, monasteries, maniwalls and chortens. Tsum Valley trek takes you into the splendid backdrop of the Ganesh Himal, Sringi Himal, and Boudha Himal ranges.
A brief visit to Kargyu Chholing Monastery and Pungyen Nunnery at Samagaon are the other notable highlights of this trek. Exploring Milarepa's Cave, the ancient cave where Tibetan yogi named Milrepa meditated to achieve enlightenment, is also the exciting prospect of the trek. A trek into the region of natural beauty, cultural splendour, rich biodiversity, breathtaking mountains, gorges and ancient monasteries, what more could you ask for.
Other treks in Manaslu region you may like: Manaslu Circuit Trek
Marvel Adventure organises Manaslu and Tsum Valley Trek with the carefully designed itinerary and professional guides. So, come and explore with us to make sure that you have one of the most memorable trek in the nation of Himalayas. Feel free to contact us if you have any queries regarding this trek.