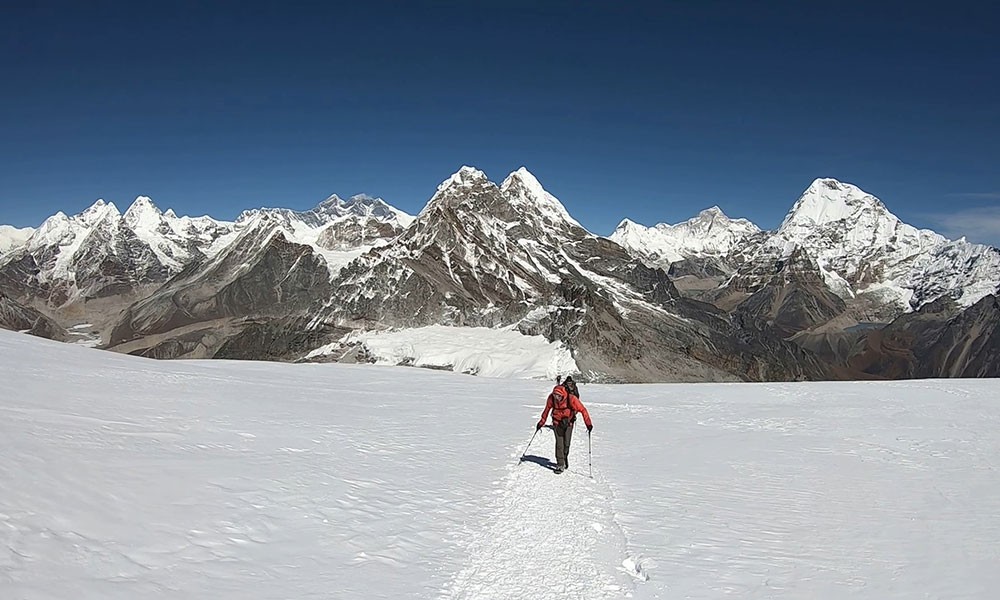 Mera Peak is one of the most fascinating and scenically beautiful trekking peaks in Nepal situated on the edge of famous Khumbu region. Standing tall at an elevation of 6476m, it is the highest permitted trekking peak of Nepal. Mera Peak Climbing is suitable for those adventure seekers who loves technical climbing and has a very good level of physical fitness.
Mera Peak climbing begins with a breathtaking flight to the famous airstrip of Lukla. Trekking from the south to the airstrip through the mystical and wonderful Hinku valley takes us to the base camp of Mera Peak. After staying overnight in the tent at base camp, we climb the peak on the early morning. Despite being physically demanding on the account of altitude, climbing Mera Peak is not technically difficult as the ascending is straightforward and all you need is the spirit and zeal to scale the peak.
The hard work of reaching to the top of Mera Peak is well rewarded with one of the supreme views in the Himalayas as five of the six tallest mountains in the world namely Kanchenjunga (8586m) and Makalu (8463m) to the east, Cho Oyu (8201m) to the west and Everest (8848m) and Lhotse (8516m) to the north can be seen from the summit which certainly is a remarkable experience.
Marvel Adventure conducts Mera Peak Climbing for enthusiasts like you with professionally designed itinerary, experienced Sherpa guides, proper equipments , permits and all other necessary arrangements. Explore with us and make your trip a lifelong memory full of joy and adventure.