Mardi Himal Trek is an exclusive short moderate adventure with touch of high altitude that leads you to adventurous experience around hidden areas of Mardi Himal in the backdrop of massive Annapurna.
Mardi Himal Trekking
leads you to highest spot at its base camp at 4,500 m and 14,500 ft high located close beneath of staggering South Face of Machhapuchare Himal, the famous 'Fish Tail Peak'.
Mardi Himal high ridges and its base camp area, christened as Other Sanctuary by early pioneers and explorer in mid 1960's and 1970's, after the main one within inner Annapurna base camp, located North West from Mardi Himal.
Mardi Himal is actually a broken ridge of Machhapuchare Himal. This small peak can be viewed from renowned touristic city Pokhara on nice clear day. Pokhara itself is blessed with natural beauty of high Annapurna range of peaks with Machhapuchare Himal that reflects on its serene Lakes of Phewa and Begnas.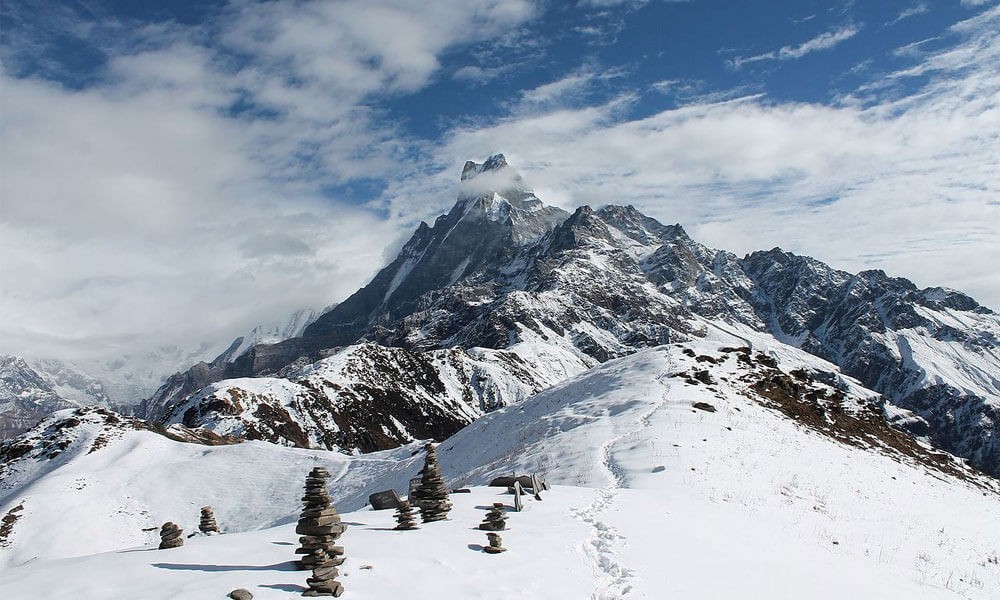 Where at Pokhara most adventure around
Annapurna Himalaya
starts and ends, Mardi Himal is located a mere 35 k.m, as crow fly distance (aeronautical miles) from the scenic city Pokhara.
Certainly a lovely short adventure from moderate to adventurous country walks in the backdrop of massive Annapurna range of peaks with towering Machhapuchare Himal, one of virgin and unclimbed peaks around Himalaya.
Mardi Himal, where one can have the options of choosing two alternative routes to reach its base camp. Tthe normal route is from Dhampus village or from Australian Camp (Thulo Kharka) that leads you through villages till to a place of Deurali.
A scenic view point hill, where route to Mardi Himal diverts to hidden corners away from main trails and villages to enter enchanting forest of rhododendron, magnolia and pine trees, as walk leads you at high camp to reach at Mardi Himal base camp on the highest point of the adventure.
At Mardi Himal Base Camp enjoy complete views of surrounding high mountain range that includes massive Annapurna peaks with Mardi Himal and majestic Machhapuchare Himal.
Mardi Himal at the height of 5,587 m high, hidden and enclosed a lesser mountains often climbed and ventured by other trekkers and adventurer with options of alternative route to reach back on the road head either walk the same way or downhill to Sidang to reach Pokhara.
The other hidden trails to Mardi Himal area following Mardi River to the base of a hill at Lwang village, and then walk higher through rural farm villages Dhiprung, Kumai, Khorchang and Simre Kharka to Mardi Himal Base Camp, where return route leads back on the same trail to Pokhara.